Have to reblog this….read the list it made me smile lots and I'll be doing some of these tomorrow!
Hello Sailor
Tomorrow is Valentine's Day aka "National Singles Awareness Day". Bitter? Me? OK, maybe a little.
This is the fourth Valentine's Day I've been single. I don't agree with the commercialism of Valentine's Day, even if I was coupled up. I don't get excited about cuddly bears holding hearts, heart-shaped balloons, chocolates, red roses on the 14th of February.  What I mean is, if someone wanted to show me their appreciation, they should do it because they want to, on any (or every) day of the year, not because someone has dictated it is Valentine's day, so YOU MUST BE SLUSHY AND CUTE!!!!!  Besides, I probably wouldn't want to date anyone who thought it was romantic to buy cuddly toys, but that's just me.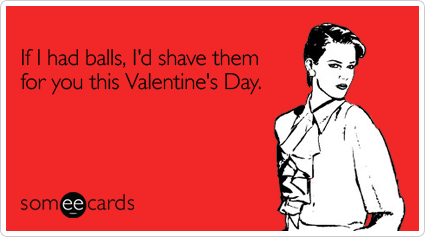 So the commercialism sucks.  But what really sucks, way more, is being single on V Day. Yeah, yeah, I'm complaining, but Valentine's Day gets so shoved in your…
View original post 629 more words